The Return of the Parasol-Topped Cocktail
---
Tiki Bars Make a Comeback, Cockatoos and All. Gauguin, Anybody?

By HELENE STAPINSKI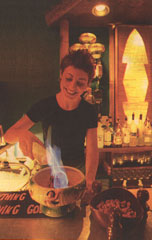 BRIAN FISHERMAN came from California with his vibes and a dream to play his Polynesian-tinged exotica lounge music in a New York City tiki bar.
"I would say tiki, and people would say, 'What's that?" said Mr. Fisherman, scratching his goatee, his eyes wide behind rectangular glasses. "Nobody had ever heard of it. I was sad."
Little did he know when he arrived 14 months ago, New York had been a tiki-free zone for nearly a decade. In the late 80's, the Hawaii Kai staged its last hula floor show. Trader Vic's at the Plaza Hotel, a favorite haunt of both Richard Nixon and Salvador Dali, closed in 1993. Its replacement, the Polynesian-themed restaurant Gauguin, lasted just over a year.
When Mr. Fisherman arrived on the East Coast, the only place in town with a bamboo hut booth and a drink topped by a little paper parasol was the Jade Island restaurant in a strip mall on the Jersey side of Staten Island.
Things have changed. The tiki gods are finally smiling on New York. As if rising from the mist like mythical Bali Hai, a wave of new tiki bars has suddenly appeared at half a dozen places around the city; three opened in the last year. The mai tai, a rum drink invented by Trader Vic in 1944, is making a comeback, served by waiters in Hawaiian-print shirts, watched over by hand-carved wooden tiki heads.
Tiki, a West Coast creation, took off after Americans returned home from the South Pacific after World War II with fond memories of grass huts, white sandy beaches and tropical flora.
"It was the flip side of World War II and the horrors of war," said Michael Batterberry, editor and publisher of Food Arts magazine. "Tiki was fantasy land."
Today, the stress brought on by attacks of Sept. 11, 2001, and the subsequent military action against terrorists, fear of travel and need for emotional escape help explain tiki's return, especially in New York.
"Traveling to a place like Bali is out of the question for most people nowadays," said Sven Kirsten, the author of "The Book of Tiki" (Taschen, 2000), a coffee table book considered a bible by tiki enthusiasts. "The terrorists have nothing better to do than blow up a surfers' club in a beautiful, peace-loving, open-hearted tropical paradise. So now you go to your neighborhood tiki bar. The great social escape is tiki. You can enter the bar and leave the world outside."
On a recent night at Waikiki Wally's at Second Street and First Avenue in the East Village, paradise lay just beyond the tiki-guarded front door. A cluster of tropical birds, including a cockatoo named Wally, greeted an assortment of guests that this evening included a couple with a baby, a single man ordering a rum-filled zombie and eight young women from Connecticut at a bachelorette party.
"I've been to tiki places in the Bahamas and in Hawaii," said Lisa Kontomerkos, the bachelorette, lei around her neck, tiara on her head. "But never in New York."
The owner, Hayne Suthon, who also runs the drag-queen supper club Lucky Cheng's, was a little disappointed to hear that New York had other tiki bars. "I didn't want to be part of a trend," she said.
Décor includes a huge mural of a beach scene, silk coconut palm trees, a bar with a thatched roof, South Seas dioramas that look like something out of the Museum of Natural History and a waterfall gurgling with tiny bubbles. Ms. Suthon even had Don Ho sing for opening night in September, and every Monday night, Wally's is host to the Tiny Bubble Band.
Only one thing is missing: the pu pu platter. In place of the traditional torch-lit, rotating wooden tray of shrimp toast and spare ribs, Ms. Suthon offers more sophisticated fare, like ponzu-marinated sesame salmon and Asian pear salad.
The main attraction, though, is Mi Cheng, Ms. Suthon's diminutive partner (and Lucky Cheng's namesake), who struts around in a grass skirt and Hawaiian shirt with a lei on his head. "He created his own persona," Ms. Suthon said. "He looks as if he was spewed out of a volcano."
Typically, tiki bars reflect their neighborhood. At 22nd Street and Fifth Avenue is Tiki Room, a Silicon Alley minimalist take on tiki created by Nancy Mah, the designer of Lotus bar and restaurant. There's not a palm tree or thatched roof in sight. Instead, flat-screen television monitors show beach images and the bar's Web site to the singles crowd. A burlap menu offers drinks like the Causeway Spray and the Burning Bush, plus pan-Asian fare with touches of coconut and pineapple. There's even a V.I.P. section.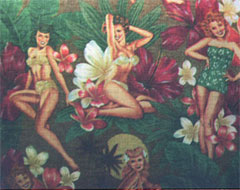 By contrast, Otto's Shrunken Head at 14th Street and Avenue A serves drinks out of skull mugs while a D.J. spins the Clash. Richard Nixon would not have been comfortable here. At the opening last month, a fellow with a Mohawk greeted neo-punks at the door, while the bartender, wearing black eyeliner and a rhinestone dog collar, taught another bartender how to cut a pineapple.
WITH its Playboy pinball machine and faux leopard-print fabrics, Otto's is more tacky than tiki. But there's a bamboo bar, a tiki drink menu scratched on the wall and puffer fish lamps floating overhead.
Until last year, Steve Pang, Otto's owner, ran a music rehearsal studio on the Lower East Side, but his dream was a bar that was sort of rock club meets tiki. "I didn't want to serve cosmopolitans and martinis," he said. "I was sick of that whole exposed-brick wall, open-space thing."
Since 9/11 and the economic downturn, bar and restaurant owners in New York have been making their surroundings more comforting and amiable.
"Everything is warming up," Mr. Batterberry said. "Even the pu pu platter has something very atavistic about it. Sitting around and grilling your food in the cave — there's this sense of community."
Despite the recent spurt of enthusiasm, New York was late in coming to the tiki table. For years, tiki "didn't seem to suit New York's mentality and consciousness," Mr. Kirsten said.
That is why, he believes, he had a hard time finding an American publisher for "The Book of Tiki." Most publishing houses are based in New York, he pointed out, and publishers would :
"Tiki? What is this guy talking about?"
After a decade shopping around "The Book of Tiki," Mr. Kirsten found a German publisher to release it in the United States. The book is in its second printing and is to appear in paperback next spring.
"The beautiful thing about tiki," he said, "is that it functions well in tropical climates, like in Florida and California, but it works just as well in the snow or in a harsh urban climate like New York. In the concrete jungle, you need some relief."
Tiki also stirs powerful, atavistic memories among many New Yorkers. Somewhere deep in the memory banks of many people in their 20's and 30's is a recollection og a coconut- and pineapple-flavored family dinner at a place like the Hawaii Kai.
Mr. Pang, a native New Yorker, remembers walking past the Hawaii Kai when he was a kid. "I remember the midget outside yelling at people to come in," he said with a laugh.
The tiki renaissance is not limited to Manhattan. Across the East River, the Zombie Hut bar has been attracting Brooklyn's youthful Smith Street crowd ever since it opened in August. The owner, Tod Bullen, and his partner, Renee McClure, have brought in comfortable couches, drinks like the Gilligan and custom-made skateboard cocktail tables.
By contrast, Otto's, in the East Village, is adolescence distilled, with album covers on the walls and a giant, blue-eyed tiki head that blows smoke from its nostrils. One night the machine went haywire and filled the room with noxious smoke, but no one seemed to mind.
Mr. Fisherman, who was soaking in the tiki vibe at the bar before going on stage, beamed. "All these places opening up at the same time," he said. "It's a dream come true for me, baby."
---
Helene Stapinski is the author of "FiveFinger Discount: A Crooked Family History," published last year by Random House.

Photographs by Marilynn K. Yee/The New York Times