SHAKEN AND STIRRED
1915 Revisited
HEY sailor,
There's serious drinking and there's not serious drinking, and the Singapore sling is definitely No. 2. Sitting beneath the blowfish lamps at Otto's Shrunken Head Tiki Bar and Lounge on East 14th Street, knees bumping split bamboo, how could you think otherwise? Martini experts, go suck an olive.
On Wednesday evening, Otto's was as deserted as an atoll. The bartender talked to a patron about copyrighting photographs.
"A photograph's a photograph, right?" she said. A woman being stood up played Nina Simone on the jukebox until people started arriving and the tunes turned to memory-lane alternative music like the Dead Kennedys - practically singalong for the early-30's crowd.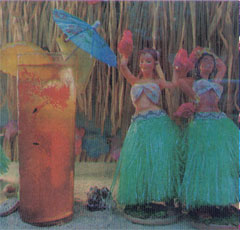 Time for fun. Otto's bills the Singapore sling as a "South Seas favorite" that is "lite and refreshing." The drink is basically gin and cherry brandy, like a version of Coke that Atlanta executives never got up the nerve to bottle. It is lite indeed - so sodalike that it tastes underage. You get carded two drinks later, when the gin hits and the brandy starts to hula.
The cocktail, invented in 1915 by Ngiam Tong Boon, a bartender at Raffles Hotel in Singapore, as legend reports it, has more variations than a lineup in a brothel. Pineapple, Triple Sec - you like it, it's yours.
Steve Pang, an owner of Otto's, presents an honest Singapore sling, as simple and true to form as a sarong. The parasol and grass-skirt sipping straw are a concession to the drink's association with the Polynesian cocktail craze of the 1940's and 50's, which produced the Mai Tai, a Trader Vic's specialty, and the Zombie. It cannot be coincidental that an era that watched a Pacific theater of war, revisited by atomic weapon testing, thought to comfort itself with nostalgia for things native, creating island cocktails.
At Otto's, Singapore slings are selling. The house punch, Pang's Punch, is popular. In a world being shaken and stirred, drinking is a little less concerned with its own sophistications. The subject is, for now, not academic.
On Wednesday night, a small friendly room with a jukebox, not a television set, decorated as if it were in the middle of the ocean and not the desert, with the kind of silly-cocktails costuming that could have entertained even troops, seemed exactly the place to be in April 2003.
Photo by Philip Greenberg for The New York Times